Nested in the woods, L' Ore du Bois sits  at the  edge of a  village, a 20 minute drive from the nearest Metro urban centre of a million people. A coveted place for epicurean eating, it serves three sittings per evening to about 60 tables. The natural surroundings are charming with the changing seasons and the interior ambiance recreates the nostalgic warmth of a 19th century country house.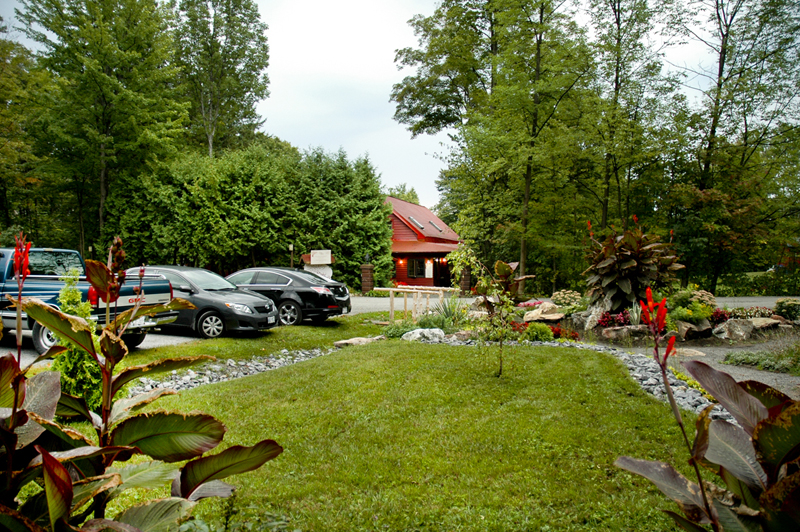 There is ample parking for all the guests, mostly from the affluent city, hidden behind trees , invisible from the road and with a gravel pad and natural drainage.  The owners even cultivate  spices and vegetables for the meals.
Outstanding  fresh food,  in a perfect setting, sensitive to nature, with exemplar design sensibility this seems a model for a successful, small, independent enterprise, that produces valued diversity and unique experiences , except ……………..
This eclectic, epicurean living is possible only in our New Urban world. No entrepreneur would have conceived of a restaurant in the woods 30 km from town in the urban, horse-dependent 19th century.   The increased and distributed wealth and its wheels of our culture make it possible; copies of this business model abound.
Exclusive traffic magnets like this range in scale from a restaurant to an amusement park, to a zoo, to a casino and to Disney World. They attract people from either a metro region,  a regional district of cities and towns or continental regions of states and provinces.
Large enterprises are considered job and wealth generating ventures benefiting the economy in general and increase local revenues and therefore not only above criticism but commendable. Small enterprises are characterized as  anti-urban.  They are simply New Urban because they thrive in the contemporay urban environment of afluence and mobility.