Regulation has a Jekyll-and-Hyde, split personality – attentive and autocratic. On one hand it cares and protects, and on the other, it restricts and confines. Abolish it, and watch people begrudge living in a place where everyone makes their own rules. Conversely, few of us wish to live by somebody else's. Where do you draw the line? There lies the dilemma that many municipalities face when they enact regulations; between ensuring public protection and not limiting the public's choices; a tricky juggling act.
This dilemma in planning regulations stems from the clash between tradition and innovation, between experience and exploration, and between practices that have worked and techniques that could work. Tradition asserts that something has worked but exploration counters that a new way could deliver better results. Can a balance be achieved between the assurance of past practices and the promise of new?
It can, and here is how Red Deer in Alberta achieved this balance.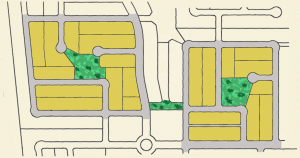 The issue was, and it will puzzle other municipal heads for a while yet, how to give people on foot an advantage in getting to nearby destinations without restricting their choice of a place to live. Resident location preferences have been documented in market surveys which show consistently a strong desire for living on cul-de-sac and loop types of streets. These types are a fairly recent addition to the street vocabulary, but have quickly gained enormous popularity. Distressingly, they come with a disadvantage – they limit the options for walking to nearby places.  Before the car, that limit would have been an unthinkable restriction on movement; no one would want to walk longer than absolutely necessary for a physically exerting errand. With the car around, this disadvantage seems unimportant. But, it still means limiting personal choice. The obvious solution: Return the 19th century pedestrian era plan where no cul-de-sacs or loops could be found. Too simple: such a solution would limit another personal choice – the preferred place to live; hence the need for innovation.
A newcomer to the realm of neighbourhood planning, the fused grid, showed a solution to this riddle. Many developers quickly grasped the idea and embraced the fused grid model for its many advantages and, importantly, for allowing choices for mobility AND for a place to live. A few ventured forward and applied it, but many others, mindful of existing municipal policies, have shied away from it, fearing approval delays. Delays mean unplanned and unwelcome costs; not an option in a competitive market. The result: new ideas go on the shelf, for a while, at least.
Smart regulation
Regulating a street pattern, even if it appears ideal, could stifle innovation; it would stop evolution and adaptation to new circumstances. By contrast, regulating the public benefit and choice that patterns should provide, could become a stimulant to innovation. There may be many untried ways of achieving these benefits. A balanced, smart regulation would let them all come forward and become part of the planning vocabulary.
And that where the innovation lies in Red Deer's approach to regulation found in its Community Planning Guidelines and Standards document. Rather than prescribing "preferred plans" by means of sketches, the guidelines describe "preferred results" or preferred performance. In simple terms, it says that whatever pattern you chose for your plans, mind the pedestrians and do not disadvantage them: use paths or parks or both to shorten their trips.
 Quickly, variety site-specific solutions started to emerge from developers and planners. For example, the City of Saskatoon designed collaboratively and approved a community plan that applies this very idea (drawing 2). The plan shows, in one case, two cul-de-sacs and a loop  converging on a small park; homebuyers get both mobility and street type choice and a bonus – the delight of nearby nature, tranquility and a valuable property. In another approved development three loops converge to a park: choice, sociability, safety and delight are also present in this layout. (drawing 1)
The Guidelines point the way to a pragmatic approach to regulation: one that protects residents' options and does not restrict design freedom. As more municipalities follow the Red Deer's leadership, developers will turn a new page and produce walkable, delightful neighbourhoods. The Guidelines have changed the game rules.  And, inevitably, new layout ideas will emerge and propagate.
The Red Deer guidelines can be downloaded here: http://www.reddeer.ca/City+Government/City+Services+and+Departments/City+Planning/Community+Development+Plans/default.htm
Many neighbourhood layouts that meet the intent of walkability  can be found here: http://www.flickr.com/photos/22392855@N08/sets/72157626176042534/