A new Calgary neighbourhood shows the features of a good, Fused Grid  neighbourhood  
In Calgary, Alberta work has begun on a new 64 hectare subdivision that will put leading edge urban planning walkability principles into practice.  Named Saddlestone, the new community uses the Fused Grid model.  
http://www.genesisland.com/land/saddlestone/community-map.html 
The Fused Grid model is a new way of arranging streets and open spaces to allow for a high level of pedestrian connectivity, while limiting the amount of automobile through-traffic within residential areas. It blends the best features of the gridiron system common in traditional urban areas and the looping streets and cul-de-sacs of more conventionally designed suburban areas. It does this by shifting most of the traffic to continuous through-traffic roads around the perimeter of the neighbourhood, while making streets discontinuous within the neighbourhoods.   
The key in making this arrangement highly walkable is the use of strategically placed footpaths, linear parks and open spaces to ensure a continuous pedestrian network within the neighbourhood. This results in slowing traffic around residential areas while leaving pedestrian flow uninterrupted, with direct, efficient and pleasant walking routes to parks, transit and amenities.  
The integration of the Fused Grid model into plans for Saddleton began in 2004, when the developer, Genesis Land Developments, began collaborating with the CMHC on the creation of a site plan that incorporated the model's key principles. Municipal approval for the plan was given in 2008, at the conclusion of a process that included meetings with city officials and revisions to the initial plan, submission of a full development application, a public open house, a presentation to the Calgary Planning Commission and a public hearing of City Council.  
Saddleton's application of the Fused Grid model is a significant step forward for this planning approach. It will demonstrate the model and its benefits in a concrete fashion and will be of great interest to municipalities, developers, home buyers, active living/transportation advocates and others as the new community takes shape.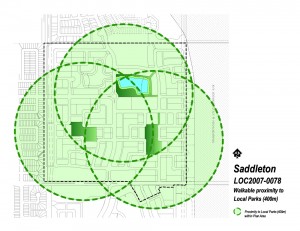 Increasing pedestrian connectivity while limiting vehicle connectivity within neighbourhoods, as the Fused Grid does, has been shown to improve rates of walking and physical activity for residents. A research study compared rates of walking in neighbourhoods with different levels of pedestrian and vehicle connectivity, including neighbourhoods with and without traffic calming measures, such as "diagonal diverters" and streets closed to cars but not to pedestrians and cyclists.  
The research found the highest rates of trips by foot (18 per cent) in areas where pedestrian connectivity was higher than vehicle connectivity. This compared with 14 per cent for areas with high levels of both pedestrian and vehicle connectivity and 10 per cent for areas with low pedestrian connectivity.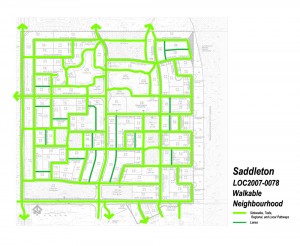 The Fused Grid's positive impact on walking is not at the expense of efficient traffic flow— a traffic simulation study showed that the Fused Grid model would allow an efficient flow of traffic and is superior to several other street layouts. Both pedestrian comfort and car movement are accommodated with sizeable reductions in the risk of collisions. Most street intersections on the site are 3-way which according to recent  research studies are the safest. 
In summary, neighbourhoods like Saddleton could enhance active living, reduce accidents and lower harmful car emissions. Moreover, they would create a milieu that blends nature, a restorative feature, in an urban setting.  
FUSED GRID: Open spaces with a triple function: recreation, pathway node and rainwater filtration are  part of the site plan:   
---
Three research highlights provide a quick tour of the ideas behind this new neighbourhood and the Fused Grid planning model:  
Canada Mortgage and Housing Corporation.  Breaking Ground: A Fused Grid Neighbourhood in Calgary. Research Highlight: Socio-economic Series 08-020. December 2008. Available at: www.cmhc.ca  
[ii] Canada Mortgage and Housing Corporation. Giving Pedestrians An Edge — Using Street Layout to Influence Transportation Choice. Research Highlight: Socio-economic Series 08-013. July 2008. Available at: www.cmhc.ca  
[iii] Canadia Mortgage and Housing Commission. Taming the Flow — Better Traffic and Safer Neighbourhoods. Research Highlight: Socio-economic Series 08-012. July 2008. Available at: www.cmhc.ca