By Fanis Grammenos
—————————-
Cities print their history in stone. To read it takes deciphering just as if it were written on a very large Rosetta tablet. The first impression that jumps out when looking around is their constant growth and evolution: they grow ever-bigger, ever busier, richer and diverse; as if an unfathomable people-magnet was at work.  And they change: buildings morph into shapes unseen before; entire city blocks are reshaped; streets are straightened, widened or, conversely, twisted, blocked and narrowed. In some cases, where people used to walk freely becomes prohibited terrain and, in others, where cars were the main occupants disappear out of sight. What explains all this constant commotion, perpetual rearrangements?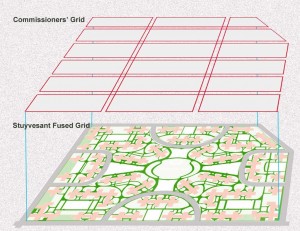 For example, the stone-text does not explain why certain places have only straight streets and square blocks, as Manhattan does, and others have hardly any, like the center of Boston or Istanbul. Nor does it reveal why perfectly straight streets in the older parts of certain cities morph into curvaceous shapes in their newer extensions at the edge.
A simple answer says that they evolve to adapt to new pressures and a new culture. But this abstract talk explains little, e.g.: What are the pressures and which are the matching adaptations? Such are the questions that naturally spring up on encountering a large, enduring development in New York – Stuyvesant Town.
When walking downtown along 14th street you realize that a dramatic transformation happened in the area north of 14th street and east of 1st Avenue: The familiar repetition of streets and blocks suddenly stops; the 200-year old grid of numbered streets and avenues that dominates Manhattan dissolves. Instead, the streets that enter at its boundary turn around and exit on the same road. What prompted its planners to give up the grid? Why the transformation?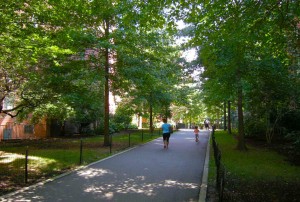 A walk through the neighbourhood and a scoop of history provide some clues. The fist overpowering impression is that you are now in the country, that you left the city with its noise, smell, dust, cars, and frenetic pace behind; coolness, freshness and quiet prevail. You are in a protected "garden" where nature dominates your senses and restores your mood.  These effects can be traced to the eve of the 20th century when planners dreamed of marrying the country and the city in a "perfect union" and launched a global "garden city" movement. Stuyvesant Town could well be a realization of that dream with an important twist: The pioneers went to the country to build the good city, Stuyvesant brings the country into the city; city density  combined with the restfulness and tranquility of a garden.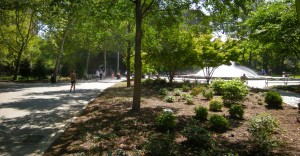 Another synapse fires when you realize the scarcity of ordinary streets and abundance of paths. Instead of cars racing by, only people stroll by: young and old, couples and kids; each moving freely at their own pace. In the few minutes that it takes to cross the neighbourhood, you walk mostly under a tree canopy or near a fountain or beside a grass-bed and flowering plants. Though built decades before the term "sustainability" was coined, this neighbourhood has all the qualifying ingredients: more walking than driving; proximity to public transit; less asphalt, high proportion of absorbing surface; large tree canopy and abundant shrubbery that reduce the heat island effect and increase rain absorption; high residential density; and primary convenience amenities nearby. It also encourages a healthy, active lifestyle with its tennis and basketball courts, swimming pool and daily recreational running, walking and sunbathing. Its buildings do not shade one another, offer plentiful sky-view and good exposure to sunlight. Parking is out of sight below grade, thereby restoring the ground to nature and people. This "must-do" list for any "green" place checks out fully in this 60-plus year old neighbourhood. It could well be that its planners were in tune with the emerging green priorities ahead of their time. Now it can lay claim to an honorary title – Sustainable. And one more too – Sociable; nothing encourages casual social contacts more than the unhurried, peaceful walking environment of its common grounds.
Its plan layout that renders it sustainable, sociable and delightful, however, remained nameless, undecipherable; a pictogram or ideogram that had no match in the planning vocabulary, at least not until recently when two new terms were coined – Fused Grid and Filtered Permeability: fusing but not always mixing active travel with motorized; where one stops the other takes over; methodically in pattern-like configurations, similar to Stuyvesant's plan. And "filtering out" motorized travel and "filter through" active modes such as walking, biking and rollerblading by design as in Stuyvesant Town; a coveted, profitable development and a great model to follow: A practical, workable version of the "garden city" idea.