There are two languages in currency that we use to talk about streets: one used by people who live on them and another favoured by transportation engineers. The first expresses our experience of streets and the other describes what each does in a "system", the transportation network system.
People say they live on a "residential" street or a quiet street, on "main" street or a busy street; words that express an atmosphere, a feeling with always a hint of affection or disapproval. In the "system" or "network" these streets could be "local", "collector" or "arterial"; neutral labels that ascribe daily car volumes, and imply number of lanes and permissible speeds; people and milieu are out of the picture. This impersonal language stems from a gradual shift in the street ownership from full people ownership to shared ownership with the car, the majority holder.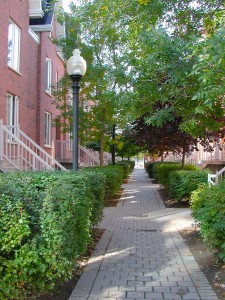 Streets were places where people strolled, kids played games and tricks, conversations started, adults traded ideas and goods and, occasionally, a spontaneous display of talent took place; that was the "public realm", fully owned and used by people. A new owner, the car, now claims rights to the street space and a new craft has emerged to accommodate its requirements. Along with the craft came a new language, the "system" language of classification. When it is translated into design on the ground the result is inhospitable, unfriendly, unattractive streetscapes. 
To shape a welcome outcome when planning a street, the question to ask is: Whose street is it? 
To recover the craft of making streets people bond to, the path may start by rediscovering the meaning of original street words and their story. "Avenue," for example, originally meant an approach leading to a country house, usually framed by a double row of trees. On the map, such an approach would resemble an impasse, a private lane with just one big house on it.  Later, avenue also meant a spacious road with large, shady trees on both sides. But shortly after, seen as serving primarily the car, it lost its trees and turned into a naked, wide, asphalt-and-cement road with up to 25,000 cars passing by each day.  But this need not be the case.
A similar story unfolds around the boulevards. Originally, they were wide promenades that replaced the obsolete fortifications. Fully landscaped, with spacious sidewalks, they created a country-like atmosphere often enhanced by an occasional park. Street crossing happened casually and leisurely anywhere, at whim. And, following the trace of the defence walls, boulevards circled the city. They were so charming and so conducive to socializing that they even generated a new class of citizens, those who frequented them: the boulevardiers. But being wide and continuous, boulevards naturally fell prey to the service of motor transport, losing the atmosphere that made their name synonymous with charm and leisure time. But this need not be the case when designing new ones.
The avenue story tells us about the importance of quiet and nature in a residential street. And since the majority of streets in every city are residential, there is a lot of opportunity for innovation. First, limit car access to residents-only or make them entirely pedestrian. People-permeable cul-de-sacs or loops do this well. Then use mostly 3-way intersections and use turns to slow cars down. Be generous with tree planting. Nothing surpasses the delight and comfort of a street that has been canopied over by a double row of trees. With these elements in place, majority ownership shifts to residents; and they love it. It sounds almost too good to be practical. Yet this is exactly what was built in Vauban, Germany and it changed our  perception of what's possible.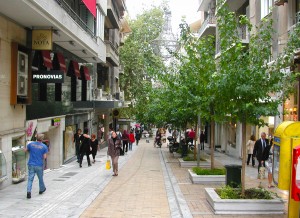 The boulevard story brings the message of space, plenty of space – for people. When planning them, change the balance between car and people space. Instead of the now usual four or six car lanes to one half equivalent people-space on the sides, make it four to one or to two. Similarly, when six lanes are allocated to the car, give two or three to people, a la Champs Elysees. This means a virtual linear park on either side of the boulevard with three or more rows of trees and a bike path separate from the road. Add trees and shrubs to a wide median also. The traffic is still there, but now people have plenty of room to walk, stroll, loiter and chat in a charming milieu, their own realm. Alternatively, separate the two streams of traffic by a building block and fill it with a variety of public spaces that make it a predominantly pedestrian area.
Using these techniques, streets can become places that people can call their own.